It is a fact that organic reach on any social media platform is becoming increasingly more challenging to achieve. This is not surprising when you consider the reams and reams of information being posted and the algorithms used to filter content in an effort to keep their platforms contemporary, socially engaging and fun.
Sounds quite bleak, but don't lose hope just yet… or think you have to pump huge amounts of moola into your advertising budget to get noticed. There are many, MAAAANY fun and inspiring ways to still build an impressive and rich following. You just need some know how, a bit of enthusiastic creativity and some time.
One fantastic (and ridiculously fun) tool on Instagram, is stories. There are a HUGEMONGUS number of eyeballs already on the platform and by utilizing stories, you open up a whole new avenue to be seen.
Here are a few tips to remember while embarking on this new storytelling adventure:
Create kickass content:
Video is ALWAYS king as it shows for longer than a static image.
Use behind the scenes content. People love to see something unique and original.
Create a piece of valuable information for your audience. Teach them something new, give them an insider's tip. Build that trust.
Try user-generated content. Repost from clients who are interacting with your product or service.
Showcase your products or service as a lifestyle.
For the braver among you: use your face and let people know who you are.
Promote your blogs, events, and offerings in a visual way.
Feature your best performing most recent post to tease to get them to the page.
REMEMBER – no hard selling!
Create actual stories in a campaign format:
Create narratives of 3 to 6 frames, so stories run into each other and follow on from each other… This keeps people watching. And use  a CTA at the end of your narrative.
Campaign Stories are a super cool tool for promotions and running competitions.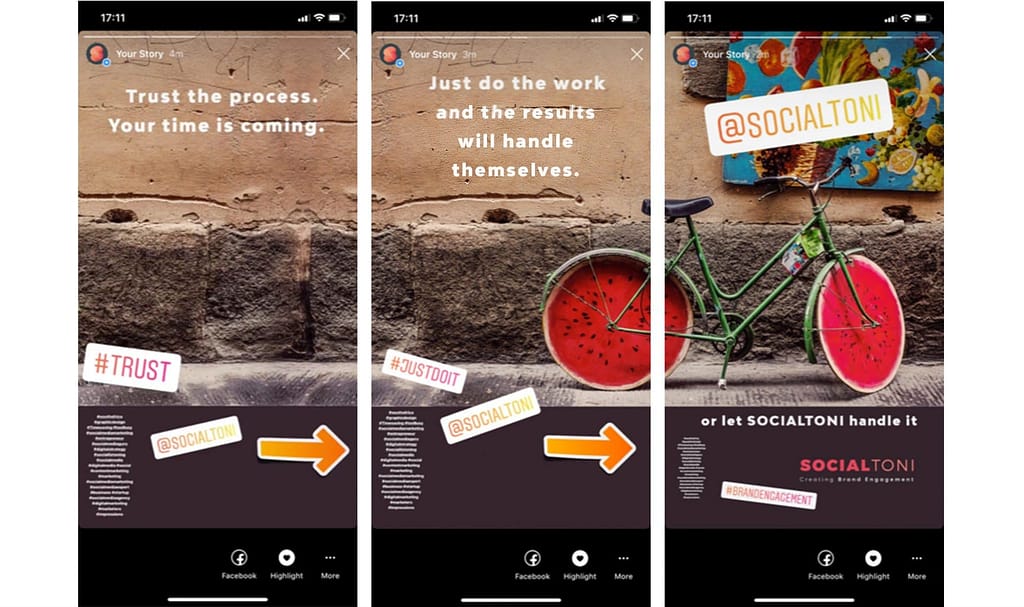 The nitty-gritty of making it live:
Use the location and mention tags.
Tag people and brands where you can.
Use hashtags. But remember to hide them! Either behind the image or make them tiny and the same colour as the background and stick them in a corner. I like to use them as part of the astetic design. but, however you want to use them, USE THEM!
Use polls, count down and question stickers. Get some participation. 
Use a vertical format. Instagram story dimensions are 1080px by 1920px
Use the highlight reel to save your stories and cluster your contents
the rules and tricks to instagram hashtags!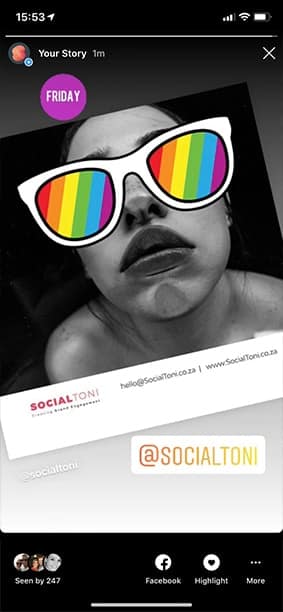 The analytics tools on Instagram keep improving. To check in on your stories to see what's working and what's not is the only way to keep improving and becoming masterful at storytelling.
Select the live story you want to check in on.

In the bottom left corner is a counter of who's seen it.. tap that!
The analitics tell you who and how the story has been interacted with, how many followers you gained and what they did from there; did they skip to the next story, did they exit from here, etc.
And not only do great stories get seen by your current followers but by new eyes too. Stories are more discoverable than posts and are usually the first thing people check when logging on to their Instagram accounts. Such a great opportunity to gain new raving fans! And as story engagements affect your total page rating on the Instagram algorithms, it helps your overall reach too.
So, test your creativity, experiment, see what kickass, original ideas you can produce… and
HAVE FUN!
With that said, you could invest a load of time and energy to learn AND DO it all! Or you could just get us to do it for you. 🙂 We are, after all, pretty good at this.
Why re-invent the wheel? Let SOCIALTONI handle it.
get in touch