Over a year ago, Facebook quietly introduced the Campaign Budgeting Optimization (CBO), an option to control your Facebook advert budget at the Campaign level. This has slowly been rolled out in different countries over the last year. By September 2019, it will be a fixed default that can't be turned off.
In Facebook ads manager, the budget setting has, until September, been on the ad set level; effectively setting spend limits for different audiences using either a lifetime or daily budget. This is how the majority of Facebook advertisers have been creating campaigns, splitting their separate audiences into different budgets. With the introduction of the CBO, we will now be setting one budget for the entire Campaign. In short, all the ad sets will be set with one budget and Facebook will allocate the budget depending on the performance of each ad set.
What does CBO mean to me and my adverts?
In theory, with campaign budget optimization, you'll be able to set one central campaign budget for all of your ad sets, and Facebook will automatically and continuously distribute that budget in real-time to your top-performing ad sets.
The illustration compares campaign budgeting and results Without CBO on the left and With CBO on the right: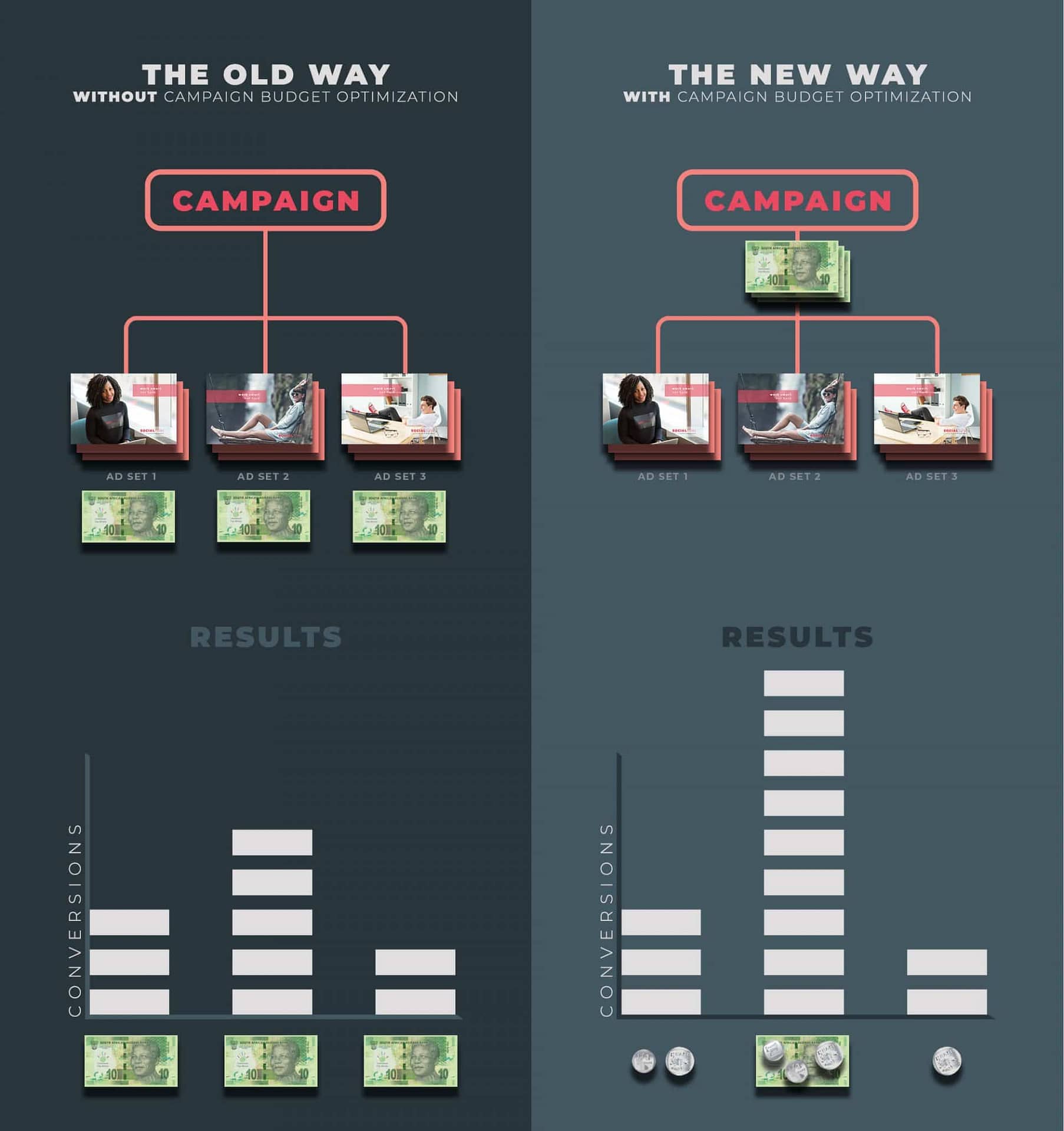 LEFTSIDE OF GRAPH-Without CBO
your budget will be spent on the ad sets as per your allocation
RIGHTSIDE OF GRAPH-With CBO
your budget will be spent on the ad sets that are yielding the best conversions, resulting in a better and more effective distribution and use of your budget… in theory.
These are the benefits of CBO according to Facebook:
OBTAIN MORE VALUE FROM CAMPAIGNS
By distributing more of the budget to the highest-performing ad sets, advertisers can maximise the total value of their campaign. Budget optimisation works continuously and in real time to capture the most results for your budget, effectively lowering your total cost per result.
SPEND LESS TIME MANAGING CAMPAIGNS
As an automated process, campaign budget optimisation eliminates the need to manually shift budgets between ad sets, which can save you a significant amount of time, whether you find it necessary to change ad set level budgets once per flight or multiple times per day.
SIMPLIFIED CAMPAIGN MANAGEMENT
Fewer budgets to track and re-allocate during optimisation. Eliminate the need to re-calculate budgets mid-flight. 
DE-DUPLICATE AUDIENCES
If one ad set has a high audience overlap with another, that budget can still be spent in another ad set. 
AVOID RESTARTING THE LEARNING PHASE
Campaign budget optimisation does not trigger learning phase when distributing budget across ad sets, in comparison to manually shifting budgets between ad sets which does restart it. 
EFFICIENTLY SPEND ACROSS AUDIENCES
Campaign budget optimisation can find the lowest cost opportunities across all ad sets and the markets that they target.
The biggest concern would be how to control the limit of spend for each ad set? For example, you have one segment you are willing to invest more on than another as you know this target market is where you need to be. Well, there will be some control at the ad set level in the shape of a maximum and minimum spend per ad set. Nice and neat!
If CBO delivers what it promises, it is truly an exciting time and money saving tool. Where before, a fair amount of experimentation, preliminary analysis and trial and error was required, we can now rely on artificial intelligence to manage the effective distribution of our budget for us. CBO promises to be a great asset, especially for smaller businesses that may not have the resources to spend on market research and trial and error like bigger companies have.
But no one has CBO completely figured out just yet and there doesn't seem to be one set formula that works for everyone, so it will require some adjustment.
We will be posting on the Social Toni Social media pages our first hand finding, tips and tricks and answering any questions that may arise when CBO becomes a fixed default. So be sure to follow us, to receive real time support.
follow on facebook
follow on instagram
follow on Linkedin